BEN is a sweet adorable pup, very friendly and playful currently 44 cm, 15 kg.
He will make a great companion. He is very loving, very curious and smart. He loves absolutely everyone. Happy to meet new people, great with men, kids, new dogs. Great with cats and kittens.
Location: Based in Midlands, available for adoption over UK (collection from location / sometimes full or part way delivery can be arranged)
BEN is very affectionate and adore to to be near humans. BEN is very friendly with the other dogs, loves to play. But of course can be a bit shy at start.
BEN loves kids, but as with adopting of puppy, future family should consider carefully, as pups use to play rough with kids, including playful mouthing, chasing, jumping, taking toys off and so on. So we would recommend kids 6+ He will perfectly suit home with the other friendly dog and cats if they don't mind dogs.
BEN is toilet trained. Good on the lead. He is young and will need time and patience to train, but he has so much love to give back 💖
BEN has no known health issues; not neutered (early age). Full vaccination pack, provided worms treatment, microchipped.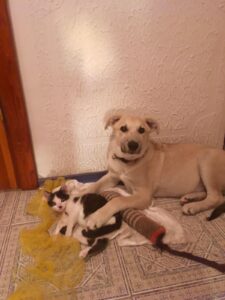 If you wish to adopt or foster-to-adopt, please fill online Preadoption Questionary