is a beautiful very active and friendly girl. Medium size around 50-54 cm height/17-19 kilos. Neutered.
ELLIE is a rescue from Ukraine, arrived in UK 18 months ago, she is three paws (back leg was amputated in Ukraine in summer 2021). But you will never notice it, as she runs fast and has no idea that she is any different from other dogs.  Currently located at   Northampton NN28.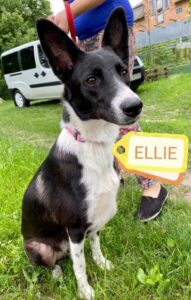 ELLIE  is very very friendly, active, joyful and playful. Loves to interact with humans and wants to be nearby. She will need an active family as her favourite things is to at and run around
ELLIE currently lives with family with 5 kids of different age, some are very small, 2 other dogs, cats and loads of parrots. That's what her family says about her :
"Ellie is a beautiful almost 3 year old girl. She had a difficult start to life and had to have her left back leg amputated, but she doesn't let this stop her!! Ellie is still learning her lead manners and pulls a fair bit. She can be reactive to other too excitable  dogs. We are pretty sure it's just her being over excited but haven't taken the chance on letting her off the lead around unknown dogs.  She does live with 2 other dogs and has another visit regularly which she gets on well with.
Ellie gets separation anxiety when being left but we have recent discovered giving her a kong ball with some peanut butter in really helps when having to leave her alone for short times.
She loves nothing more than an cuddle on the sofa and a good human scratch on her neck where she cannot get herself.  Ellie is a lovely girl who loves nothing more than a nice cuddle.  She gets on well with other dogs within the home and loves to play and play gently with our other small dog but can be reactive on walks so will need an experienced handler and training to be continued. Ellie is a verbal girl who likes to talk when wanting your attention.  She is fit and healthy but has previously had a back leg amputation.  She has been around other dogs, 5 children including an infant, cats and  pet birds in our home with no issues. "
ELLIE  has no known health issues; Neutered Vaccinated rabies, DHLPP,  microchipped.