is a beautiful, very  friendly and super clever 17 months old boy. Presa Canario 34kg. Currently located Coalville, LE67.
KOBI is very people oriented and good with kids.  But needs time to get to know people and trust.  He previously liv
ed with 2  other unneutered male dogs ( Staffordshire Bull terriers) but  as getting older he was not getting good with them, es
pecially  with one. Even if this is very often case when keeping at home a few large breed strong character unneutered males and it might be different if the other dog is neutered female, we anyway can't recommend now for a family with the other dogs or cats.
KOBI needed  to be urgently re-homed due to him having a big fight with another dog male Staffordshire Bulterier. He is currently at foster and that's what the foster family says about him  "  Kobi is currently living with me, since 28th December. My friend had him from 5 months old. Kobi is a snuggle buddy at home, he loves to cuddle up on the sofa or on my bed. He is obedient in the home and will follow commands such as sit, down, hide, touch, wait and go round. I've included a video of h
im. On walks he is generally good and walks to heal. He can be reactive towards other dogs and we have tried him with my girlfriend's female Cane Corso, but he was not good with her, so that's why we can't keep him. His diet is currently Barca, this is a pellet food from Nederlands, but I'm trying to gradually intro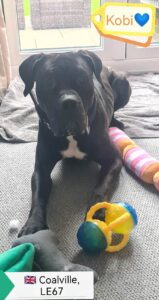 duce Wainrights. He is young and very active. Unfortunately we cannot adopt long term, but would love for him to find a loving family for his forever home! "
KOBI travels well in the car. Fully housetrained. Lead trained.KOBI  has no known health issues;  Vaccinated, provided worms/fleas treatment, microchipped. Will be castrated in few days before going to his new home.