NALA is an absolutely adorable French Bulldog girl of about 5.5 years old. Standard breed size.  Recently spayed.
NALA came to rescue in November 2022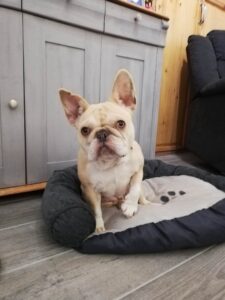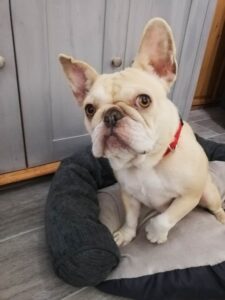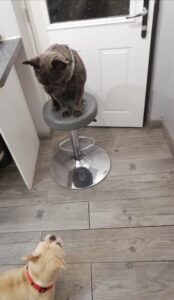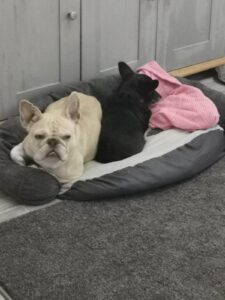 , as an  emergency. Family was going  through divorce and were moving out of current property and could  not take dogs. And NALA and another French Bulldog  boy (LOUIS, also available for adoption) suddenly became unwanted and needed to be collected urgently, same day when they called to our rescue or they would put them in kennels, what, on our mind, is absolutely not good place for any dogs and especially such a sensitive breed.
So NALA went to our great foster family. This is what they say about her: "At first she was very confused, barking all the time, and very unsettled, which is totally understandable. A week on, and she is a totally different dog.
She loves her walks, and is very active, but equally loves to cuddle on the sofa, and sleep in her bed.
She's very good with children and other adults, both male and female.
She currently lives with young kids, 2 other dogs, and cats. She is good with other dogs, who are not too pushy and in her face. And totally ignores cats."
As appeared NALA was neglected a long time before she came to rescue. She was not vaccinated, not spayed and had many health issues: long lasting and very bad ear infection which was not treated (currently on antibiotics treatment), also vets found mammary lump, which have been recently removed during spay operation.
NALA is still very young, she is an absolutely lovely girl and deserves a loving home, where she can be loved and cared.
NALA is friendly with everyone, adults and kids (used to live with kids in a previous home and now in foster). Housetrained.
NALA is a tender soul and can get stressed when coming to an absolutely new environment: overexcited (generally anxious, barking, difficult to calm down).  But she settles fast and in 1-2 days she will be back to herself, sweet and loving doggy ( we will be happy to provide support with settlement tips and materials).